Coroplast
Features
These signs are commonly called yard signs from the familiar politician campaign signs that show up in many yards prior to an election. These signs are intended for a relatively short term outdoor life of about six months to 1 year. Although these signs are usually considered "disposable" to some extent they can also be stored and used again. For example if an apartment complex wanted a sign warning tenets of an impending freeze so they would leave their faucets dripping, a coroplast sign would be perfect and could be used in following years for the same purpose. All of the signs we make are custom sized and lettered, but these signs do have two "standard" sizes that are ordered most often. The larger standard size is 18 inches high by 24 inches wide, and the smaller is 12 inches high by 18 inches wide. These sizes are for four millimeter thick coroplast which is the most common thickness. Coroplast does come in other thickness intended for signs of a larger size. For example, a four feet tall eight feet wide coroplast sign would be extremely flexible and flimsy with a four millimeter thickness. For a sign of this size in this material a ten millimeter thickness would be recommended for rigidity.
We use high quality "Coroplast" materials for our signs.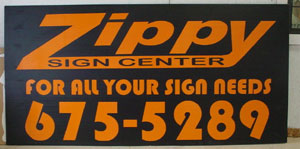 Installation
Theses signs are cost effective and easily installed with a wire step stake. We can also put grommets in the signs so that they may be hung like a banner. These signs are light weight when small and can be applied with double stick tape, however during removal when this method is used, the signs are usually bent.
Care
To store on of these sign you must simply wipe the sign down with soapy water and lay flat in a cool dry place. Do not place heavy items on top of these signs as they may dent. Care should also be taken not to bang the edges and corners as they may bend.